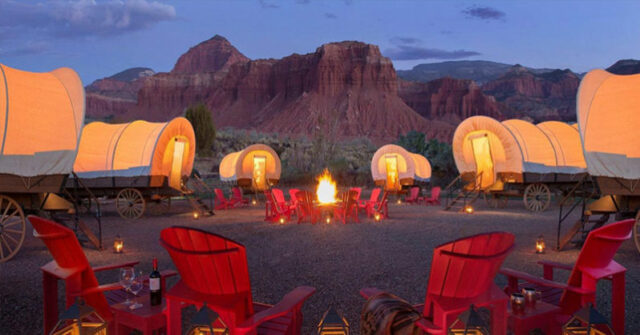 Outdoor camping spots are stepping up their game this year, as the pandemic has pushed people to look for glamorous outdoor campsites.
Spending time outdoors, under the stars also has healing properties, and reconnecting with nature after spending so much time indoors, sounds like a great idea. If you wish to travel back in time and spend some nights outdoors, just like your ancestors, you can opt for an old-fashioned wagon.
"Oregon Trail" wagons can be now found at lots of campsites along the US and they are inspired by designs dating back to the 19th century. Once inside the wagon, you'll find modern amenities, such as private bathrooms and even air conditioning. This modern type of camping is called glamping as you can experience all the excitement of sleeping in nature but in a more glamorous way.
Some of the most celebrated glamping resorts include Smokey Hollow Campground, Horse Cave KAO, Zion Wildflower, Roscoe Campsite Park and Capitol Reef Resort, but make sure you'll book your wagon in advance as they are selling out very fast.
1. Smokey Hollow Campground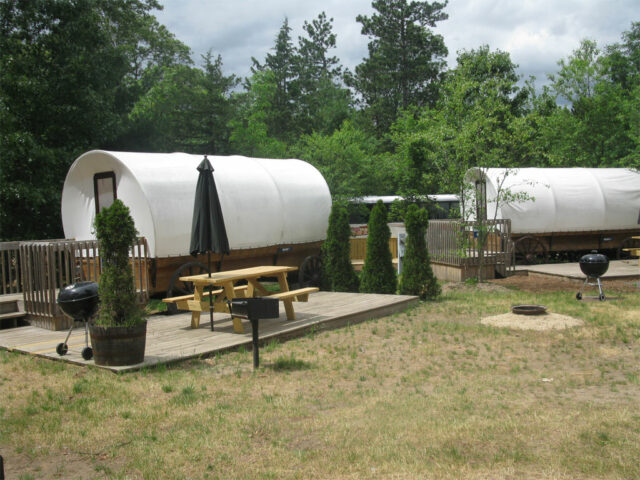 If you're looking for some adventure and excitement, stay a few nights in Smokey Hollow Campground's spacious old-fashioned Conestoga Wagon. It provides plenty of sleeping space and a chance to camp in a unique RV camping unit.
Smokey Hollow Campground is located in Wisconsin.
2. Horse Cave KOA Holiday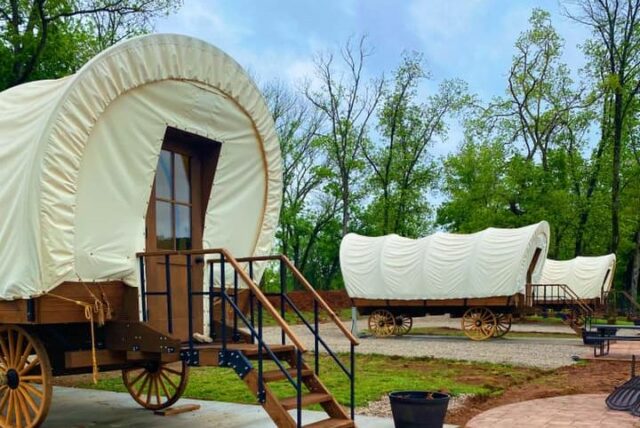 Make some memories when you stay in one of three authentic covered wagons at Horse Cave KOA in Kentucky.
Horse Cave KOA (located close to Mammoth Cave) just added three covered wagons to their campground mix. For those who want to add some adventure to their camping experience, these unusual overnight accommodations will fit the bill!