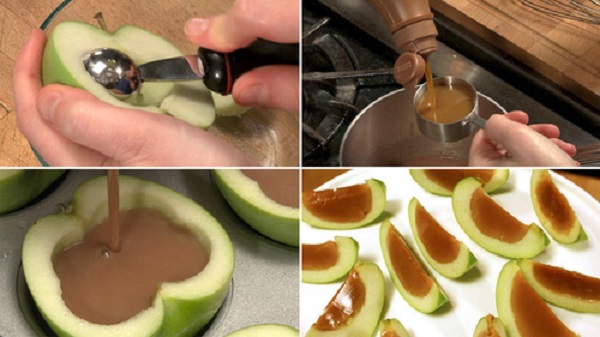 An interesting bite-size snack, suitable for adults at a party, is all you've ever wanted? You have reached the right place on the internet, because we will show you how you can make the most tasty caramel apple jelly shots ever. Make sure your event is no longer a dull experience when it comes to the food aspect. For this, you will need the following ingredients:
• lemon juice from a fresh lemon;
• five or six apples;
• half a cup of water;
• one envelope of caramel hot chocolate mix;
• a quarter of a cup of sweetened condensed milk;
• a quarter of a cup of caramel sauce;
• one envelope of unflavored Knox gelatin;
• a quarter of a cup of sugar;
• a cup of vodka;
The steps are quite simple. You start by cutting the apples in half. Then use a spoon to scoop out the contents Take the muffin pan and place each freshly cut half into the cups. Drizzle lemon juice onto the apples. While the pan sits in the fridge, you will prepare the caramel shot filling. You do this by blending hot chocolate mix with water. Next, continue to stir and add the milk and caramel sauce. Put the gelatin and mix until the contents are smooth. Leave to sit for a couple of minutes. Then, put the mixture over low heat and whisk in gently the sugar. Stop the heating and add the vodka. Pour into each apple cup and place in the freezer for a couple of hours. Now, when the jelly has frozen, place the apples downward onto the plate and cut slices. Bon appetite!
Video instructions –> Caramel Apple Jello Shots