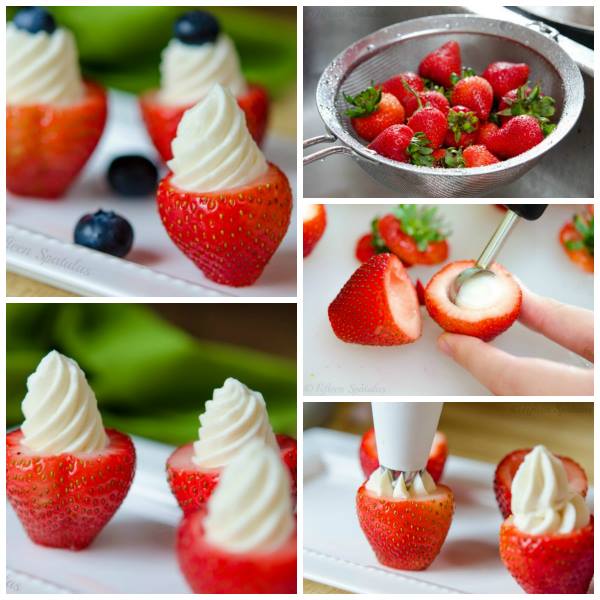 When I first saw these bite-size appetizers, I was amazed! A simple yet so creative idea will surely improve the level of fun at your event or party. Just make sure there are plenty of these little delicious treats around. In order to make Cheesecake Stuffed Strawberries for yourself, you will have to follow the instructions and acquire this list of ingredients:
• a dozen fresh strawberries;
• eight ounces of cream cheese;
• a quarter of a cup of powder sugar;
• half a teaspoon of vanilla extract;
• a quarter teaspoon of almond extract;
• some blueberries;
Start with cutting the top off the strawberries. Take a melon baller and begin scooping out the contents from within. Make a base for each strawberry by cutting a small portion out of the bottom side. Then, blend the cream cheese together with the extracts and sugar, with a mixer. Don't stop until the composition becomes fluffy. Put the contents into a piping bag and fill the strawberries. Finally, decorate each appetizer with a blueberry on top. It looks and tastes delicious!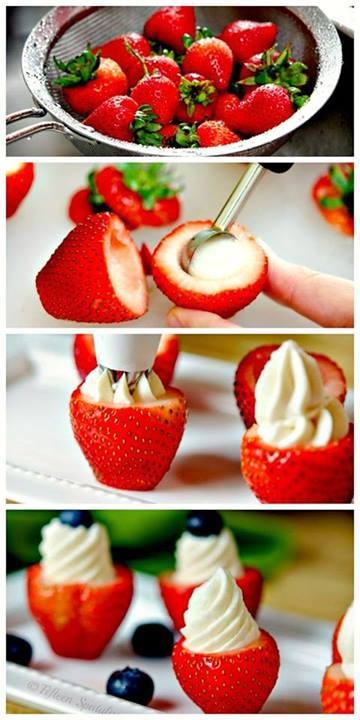 Source and more details:  fifteenspatulas.com