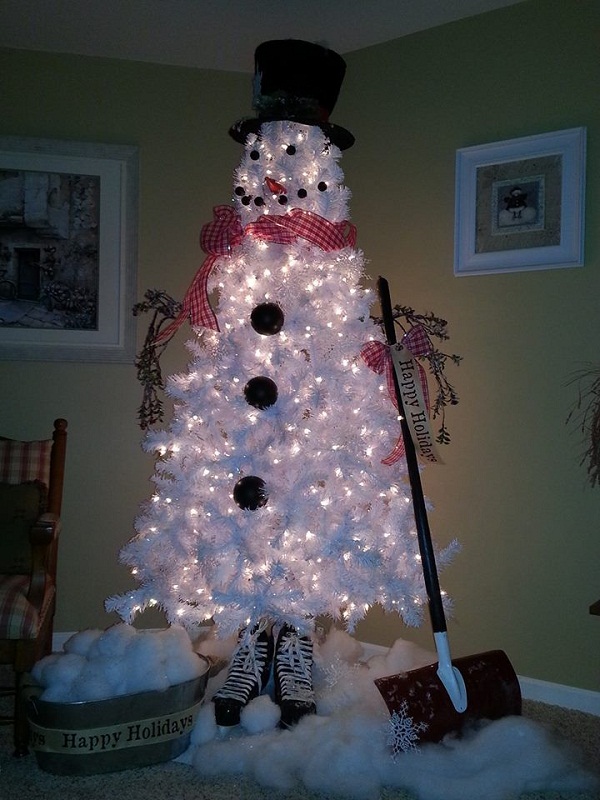 Combining some Christmas winter activities doubles the fun and makes the whole experience a lot more memorable. Try to mix decorating a Christmas tree with making a snowman. `How` you ask? Simple and creative, after reading this few steps, you will make your holiday a bit unique. Here are the materials needed:
• white artificial Christmas tree;
• a huge matte white 12-inch Christmas ball;
• a marker;
• a couple of 30 inches silver glittered sprays;
• 3 black glitter Christmas ornaments;
Start with drawing eyes, nose and a mouth on the white 12-inch ball, and then set up the tree and place it on top. Like in an ordinary snowman, make his `coat` buttons out of the 3 black ornaments. Align them with the `face` and simply place them in a nice row downward. Next, add the couple of branch sprays where the snowman's arms should be, about halfway up the tree. You should stuck them in the tree deep enough to remain in position and also point outward. In order to finish your one-of-a-kind project, decorate with some creativity. Watch the picture and feel fry to copy the design. An elegant hat, a cute scarf, some black boots, and a shovel will make the Christmas Tree Snowman look more natural. Top up with some lights and … it's alive! Careful not to overcrowd the tree and your entire year will have a wonderful piece of winter theme decoration in the living room.