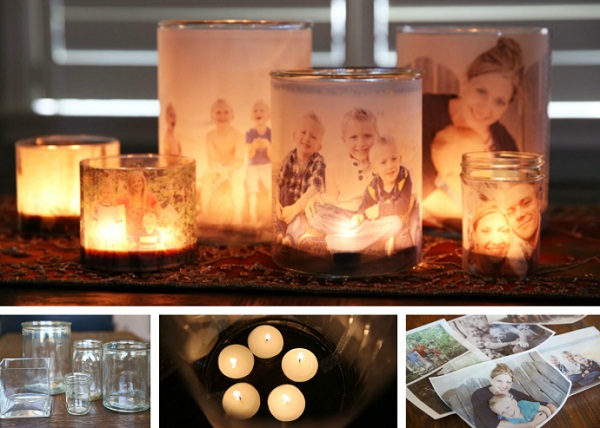 A beautiful decoration doesn't need a lot of work, but a small amount of attention to detail and some creativity, as well. Remember when the entire internet was full of digital photo frames, which seemed to replace ordinary frames? Well, that didn't happen because people are not that enthusiastic about letting technology into their homes; especially when it involves their family (pictures, but none the less). To make this wonderful display you will need:
• some glasses and/or bowls;
• printed or regular photos;
• a ruler and a cutter;
• transparent double-sided tape;
First, select the photos you want to make your luminary out of. If you don't want to damage them in any way, print some instead. Then, make sure they're the right size (height) to fit the glass. If not, trim it with the help of a ruler and a cutter. Next, apply double-sided tape on the front side of your picture and place it in the glass. If your container is bigger, cover the whole length of it by placing two photos next to each other and tapping them to the glass. Finally, place the luminary on a windowsill or put a scented candle in it to make it glow beautifully..
source and more details: ourbestbites.com