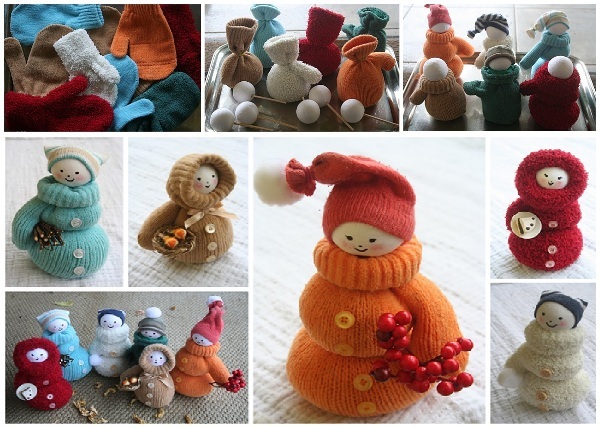 Holiday preparations often include a vast shopping list. For the kitchen, for the kids, for the guests, everyone rushes to buy something in order to bring some Christmas joy to others. You could still do that by not stuffing your house with more things, but reusing some of your old objects. Stop your voyage to the mall and take a trip to your kid's room instead. Find a pair of mittens or socks that aren't used anymore and start the DIY mania. You will need:
• mittens;
• socks;
• rice or beans;
• rubber bands;
• Styrofoam ball;
• chopstick;
• a pair of scissors;
• glue;
• marker
• buttons and other decorations;
The first step is to fill your mittens with rice or beans. In this tutorial was used two-finger mittens. Be sure to stuff all the fingers as we will turn one into the hand of the doll. Place some rubber bands to create a nice looking silhouette. Don't tie the top of the mitten!
We leave this open in order to fashion a head for the little character we created. Take a Styrofoam ball and poke it with a chopstick then insert into the rice-filled mitten. Use the marker to draw a face on the ball, turning it into a realistic looking head. Decorate it with a hat, made out of a sock from which you cut off the fingers and rubber band it closed. Glue to the ball to make sure it doesn't fall easily.