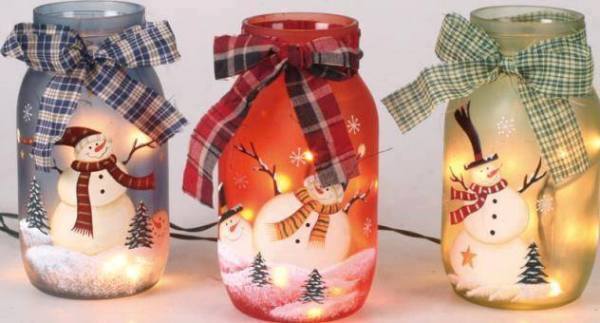 Here is a cute tutorial for a DIY project which consists in a painted jar that has a snowman on it. So we'll just call it Snowman Jar. As the winter holidays are approaching we thought this tutorial will help you bring the holiday spirit in your home. This craft was created using a glass jar, but you can also paint this nice snowman on any other surface, such as fabric and even wood. So here are the supplies you will need for this project:
• one glass jar (in this case)
• one liner brush
• one shadier brush
• one smaller brush
• brown and black colored craft pens
• white pen
• a toothbrush
• acrylic spray sealer, a matte one
• the pattern of the snowman
• and acrylic paint for the snowman ( green, white, red, blue, brown, golden and any other colors you'd like your snowman to be)
And now, let's see the steps for making this craft:
1. Be sure that your jar is clean and label-free otherwise the paint won't look good on it. So you'll need a clean and washed surface on which to paint.
2. Apply the first coat of paint on the jar. In the picture we found this one was green, but you can get creative and use any other color you want. Let it dry and then apply a second coat of acrylic paint of the same color.
3. Now trace the pattern of the snowman and then start with painting the body, its clothes and cute face. For this you can use any of the colors above. Just let your imagination run free.
4. Now paint its arms and other little details such as the buttons on its coat. Again, you don't need to make your snowman look just like the one in the picture we found, use your creativity to personalize it.
5. You can now use the black and brown pen to add some stitches to the snowman's clothes. All you have to do now is write the text that says 'snow place like home' and with the use of the toothbrush, splatter white paint all over the jar. Looks like real snow, doesn't it?
6. Now the last step is to take the acrylic spray sealer and spray the whole jar 2 or 3 times in order to fix the paint.
And that is all you need to do, to re/create this cute holiday decoration, that we are sure your children will love too.