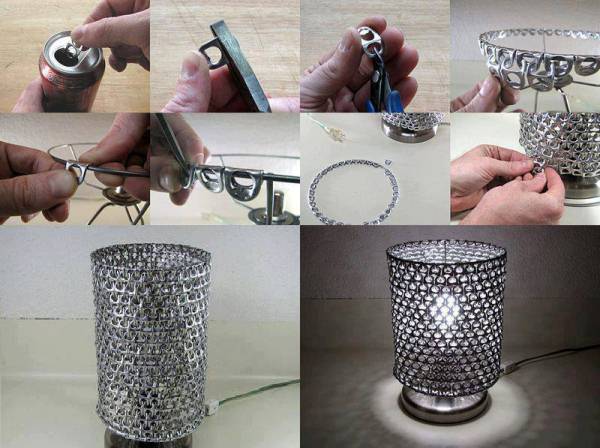 Making an impressive lamp shade is surely a unique task. Patience as well as a keen eye for details is definitely in the job description requirements for an ideal candidate. If you think you're up to the challenge, we will assist you through the entire process. Read the full tutorial accompanied with photos so you are sure you are on the right track. Before you actually start the DIY work for a beautiful pop top lamp shade, you will need the following brief list of materials:
• soda can tabs;
• bottom lamp shade hoop;
• top lamp shade hoop;
• light bulb;
First, remove the tabs from your recycled cans. You might want to do this overtime, so you won't spend an entire afternoon just taking them off the cans. Also, be aware that in order to make a colorful shaded lamp like the one featured in the pictures, you will need cans that have factory-anodized color pull tabs, because the final result doesn't include a paint job.