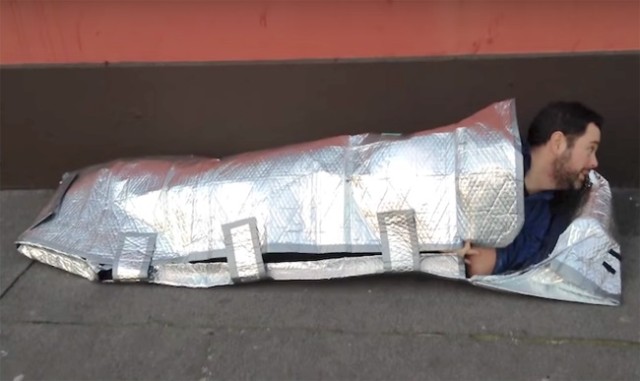 The increasing number of homeless people have inspired Emily Duffy (15), a student from Desmond College, to develop a project that she presented at the BT Young Scientist and Technology Exhibition at the RDS, Dublin, where some of the brightest ideas of young people are shown. The project consists in a lightweight sleeping bag that includes various safety features and is suitable for different conditions, a replacement for cloth bags that are so impractical and difficult to keep dry. Her invention, also known as 'Duffily Bags', is waterproof and fire retardant, with Velcro straps instead of the traditional zippers.
"I wanted to develop a sleeping bag that would solve some of the problems with existing cloth bags," stated Emily. She came up with this idea when she lived for one day on the streets of Dublin as a strategy to raise awareness and money for a charity that helps homeless people.
In order to be sure of its safety, Emily conducted tests on herself and saw that it does in fact keep warmth, besides being waterproof.
This bags are now being produced by people who were previously homeless, at the Mendicity Institution where they earn $10 an hour.
"It is lightweight and designed to last," she added about her invention. "It will last many years and much longer than a conventional sleeping bag."
For better visibility at night, Emily added reflective stripes and Velcro openings so that the person who uses it could get out quickly if in any danger.
If modified a little bit, this bag can also be used for conventional camping in rainy places and hard weather conditions.