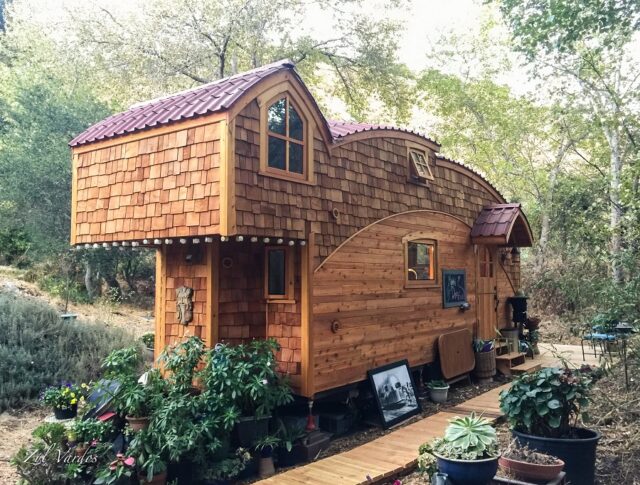 How would you like to live in a fairytale-like home? This tiny house looks like it has been transported in our world from a Tolkien novel and all thanks to Zyl Vardos, a builder specialized in tiny homes.
Each of their designs is custom made, according to the client's needs, and they also ship the house to anywhere in North America, Canada, and even Mexico.
The company is owned by Abel Zyl and he has been in the business for 10 years, and the founding member of the American Tiny House Association. Abel also works as a consultant and has his very own show which is called "Ask Zyl Live", offering live consultations for anyone in need of tips on how to build a tiny house.
The most special thing about his designs is that they are handmade and come with lots of intricate details and carvings, so a lot of effort and time is invested in each one of them.
This beautiful tiny house is called the Moon Dragon and is among the largest designs ever made by him.
The house is 9,25 feet wide and 24 feet long, has cedar exterior, and comes with handmade windows. The tiny house is comprised of a loft bedroom, a kitchen, a bathroom, and plenty of storage space. If you are thinking about buying a house from Zyl Vardos, the larger designs such as the Moon Dragon are around $110,000 but they come with everything included and even a set of wheels so you can take them with you if you decide to move.
Zyl Vardos specializes in highly functional, uniquely-styled tiny house structures. They are traditionally crafted, but engineered in a forward-thinking way. Founded in 2007 – Zyl Vardos is one of the most experienced building companies in the tiny house world.