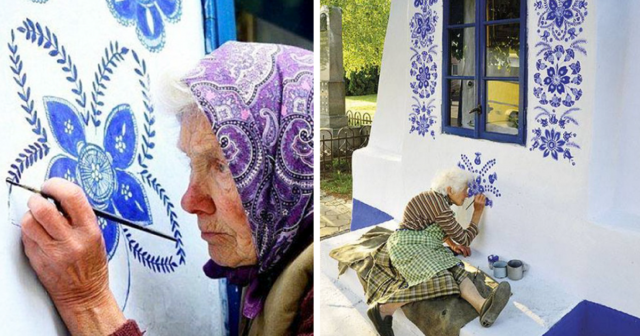 There's a small village in the Czech Republic with beautiful artwork on the walls of traditional houses and all thanks to the 90-year-old Anežka (Agnes) Kašpárková. The story starts in Poland, in Zalipie which is just 90 minutes away from Krakow, and where Agnes started to decorate the village houses with intricately painted flowers.
In time, more locals have started painting their homes in the same style, until the village decided to set up a yearly competition called Painted Cottage Competition.
The first one was held in 1948 and it has become a tradition by now. Agnes who is originally from Louka, Czech Republic returned to her hometown to recreate the beautiful flower patterns on the streets of her childhood. Her art is inspired by traditional Moravian artwork and she uses a small brush to create the amazing flower patterns.
The paintings she makes require a lot of hard work and attention to detail, but once again it proves that anything can be done if done with passion and there are no age barriers.