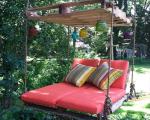 Here's an interesting idea. These types of pallet lounge chair are the most suitable items for your backyard or outdoor space. You will need a large tree with good sturdy branches or it can hang under a deck or on a porch that has good strong rafters.
You probably already know how great pallets are. The fact that you can create any piece of furniture out of them is awesome and it will look good in any type of home. Though using pallets to create furniture, especially sofas would be suitable for larger areas as these can take up ...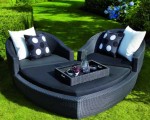 Outdoor lounge sets are increasingly popular and the Ravello is perfect for the deck or patio. You could add a cantilever parasol to shade you on those long hot Summer days. The cushions on this set are completely rain resistant. Aluminium frame with hand woven in "Greywash ...