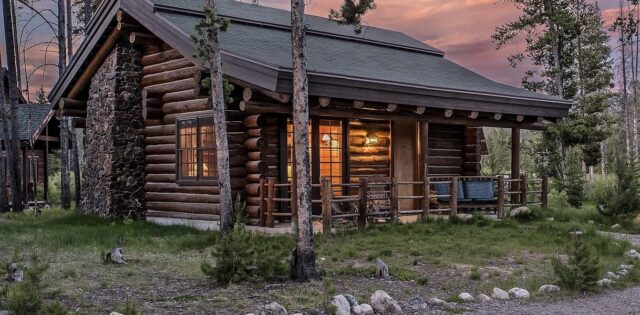 Some cabins are just perfect to celebrate special moments, and such is this cabin building called Honeymoon Cabin and is part of The Redfish Lake Lodge. The name is self-explanatory, as the cabin is an intimate one and can be the perfect getaway for a couple. The private deck of the cabin is located close to the lake and has a stunning view of the mountains. The interior features a lounge area with a cozy sofa and an atmospheric fireplace, a bedroom with a king-size bed, a kitchenette and a fully equipped bathroom.
The Lodge was built in 1929 and spreads over 16 acres and overlooking the glacier lake and the Sawtooth Mountains it's the perfect place to spend some relaxing and intimate moments.
The beautiful outdoors is stunningly reflected inside of the Honeymoon Cabin, which has a rustic design with natural logs and an amazing stone fireplace. The earthly colors and elegant elements combined with the natural feel leave the impression that nature was invited to be a part of the space and even though spending time indoors, you still feel connected to the outside.
To learn more about this unique cabin, take a look at the pictures and start planning your visit once the lockdown is over.
More about this story can be found at: Redfish Lake Lodge