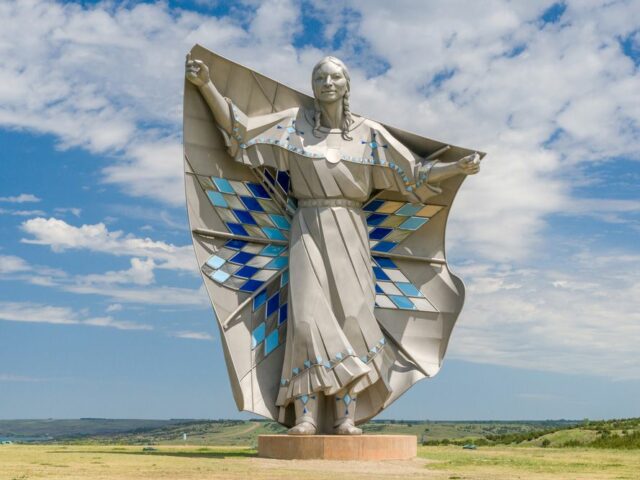 South Dakota is home to one of the most iconic sculptures that stand tall in the wind as a tribute to the Native Nations of the Great Plains region.
The 50-foot-tall sculpture is named Dignity of Earth and Sky and it represents the figure of an Indigenous woman who wears a Plains-style dress.
The sculpture is presented while receiving a star quilt and Dale Claude Lamphere is the artist behind this statue that shows movement. Since the women of the Indigenous community are often overshadowed, the need for them to be represented was a pressing one.
Lamphere had 3 models who helped with designing the portrait of the woman and also studies the traditions of the Lakota and the Dakota cultures. The quilt on the back of the statue symbolizes the Native American culture and is comprised of 128 stainless steel blue diamond shapes.
The shapes change their color according to the sun and they are lined with LED lights that light up at night.
To visit the statue often referred to as Dignity, you'll have to go off I-90 in Chamberlain, South Dakota and you will see her majestically glowing in the sun.