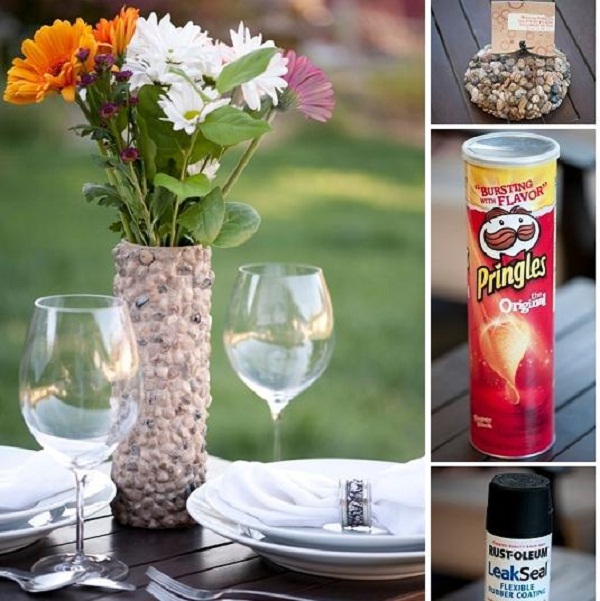 I often come to think about DIY as a school. Not because you constantly learn something new, but because you are pleasantly surprised by all the stuff people around the world come up with. This pebbled flower base, made out of a Pringles can, is one great example of that. The picture with the finished product can fool almost anyone that it is an expensive piece of garden decoration. But it's not! It's a simple handmade project. Here is what you need to do to have the same:
• a can of Pringles;
• rubber seal coating;
• spray adhesive;
• a can of Mod Podge;
• a bunch of rocks;
• some grout;
• a knife;
• water, paint brush and paper towels;
• a sponge;
First, take the rubber seal coating and apply it on the inside of the Pringles can. This will prevent water from flowers to leak. Then, place the can on its side. You can now spray the adhesive. Work with one section at a time. Next, put the rocks at your disposal onto the Pringles and make a nice pattern out of them. Do the same for the other sections and let the whole can to dry for a while. It's time for the grout. With the help of a knife, spread it in sections. Before it has time to dry rub the grout off as much rocks as you can, while pushing it between the rocks. Use some paper towel and water on a paint brush to work across the rocks. In the end, apply on the rocks with a movement of a moist sponge. After the grout dries over the night, layer the rocks with a bit of Mod Podge to give it a shine and leave to dry. Fill your vase with water and put some beautiful flowers to gaze at.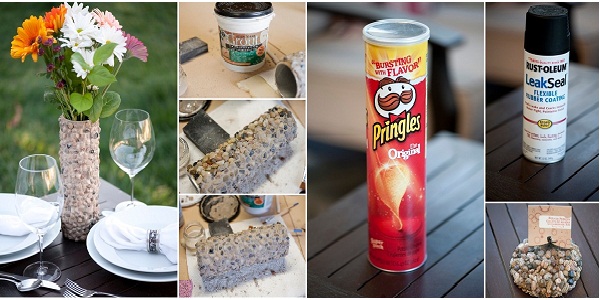 source: fabyoubliss.com