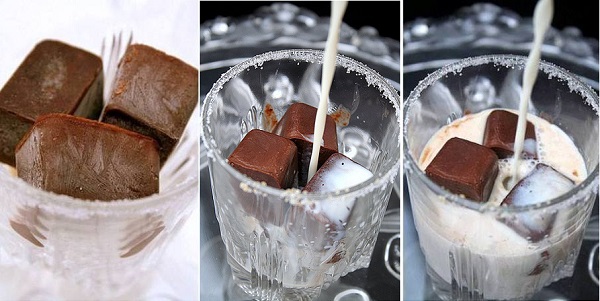 Those summer heat waves are just awful, especially when you didn't prepare any ice for the drinks that instantly get warm when poured into glasses. How are you supposed to enjoy your afternoons in this manner? Luckily, you can not only be prepared for this but also improve your drinks with this recipe for DIY ice cubes chocolate. Here is what you will need:
• a tray of ice cubes;
• a tablespoon of instant coffee;
• 70 grams of dark chocolate;
• a pinch of sugar;
• 50 ml of water;
• 200 ml of milk;
• a tablespoon of unsweetened cocoa powder;
• a large bar of chocolate;
You will finish this fun recipe in less than 10 minutes. All you have to do is mix the water with sugar, milk, instant coffee and cocoa in a medium saucepan. Heat this pan and when it reaches boiling point, pour it over the bar of chocolate. Wait until the chocolate melts and stir gently with the help of a wood spoon. Stop when it becomes a smooth cream. Let it cool and then transfer to the tray. Fill the ice cube slots and put it into the fridge. Whip it out every time you want to enjoy a cool and tasty glass of milk!