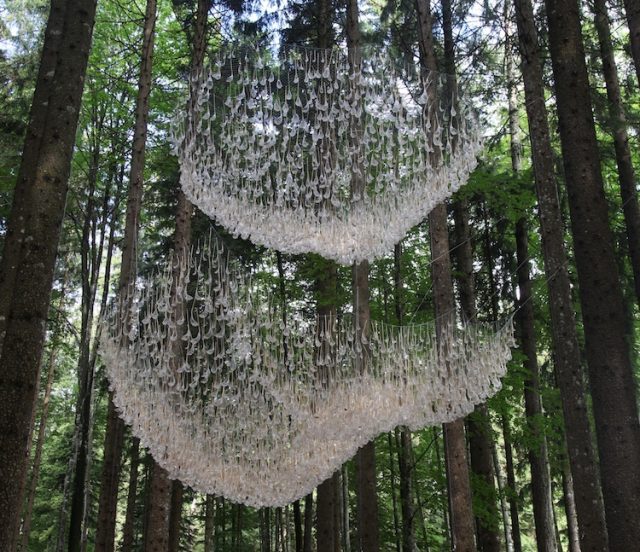 The relationship between man and nature has always been a central motive in art, and John Grade's giant installations explore this topic as well.
His latest work is called Reservoir and is an ode to natural ecosystems and phenomena. His installation recreates the patterns of forest rainfall by creating a large suspended net in the heart of a forest. The piece which resembles an imposing chandelier can be found in Borgo Valsugana, Italy in the Arte Sella Sculpture Park.
To make the installation, Grade used 5,000 clear plastic compartments that have been shaped by applying heat on them. After shaping them in the form of a raindrop, the artists suspended them using nets, so they can collect rainwater while being placed in a delicate frame of Alaskan yellow cedar. To keep the nets in place, Grade used stainless steel rings and placed them facing upwards, so they can collect all the rainwater falling from the trees. After heavy rainfall, the droplets managed to collect even 800 pounds of water.
When revealing his installation, Grade even thought of a live performance in collaboration with dance artist Andrea Rampazzo and created a beautiful show with the help of 4 dancers.