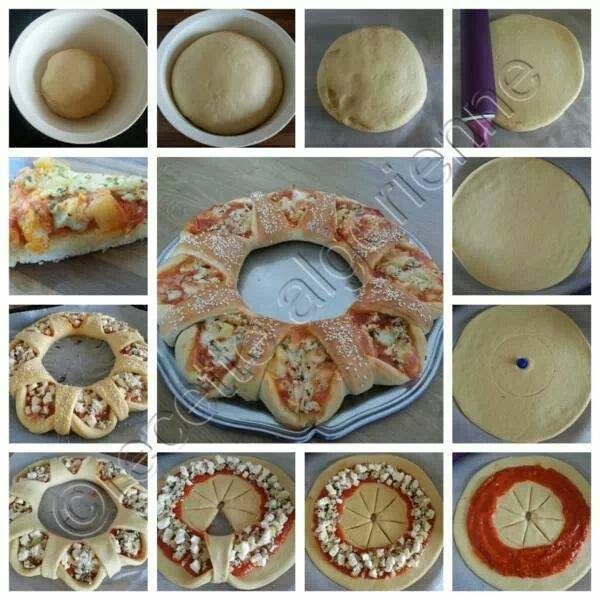 If you have grown tired of that same pizza delivered to your doorstep, try something different for dinner or lunch. Impress your guests or entertain the children with this Crown Pizza. Not the usual shape of pizza you would expect, but as delicious as ever. Here is what ingredients you will need to make it:
• 500 g flour;
• 1 package dry yeast beer;
• 100 ml milk;
• 175/200 ml water;
• 2 packs of 100 g mozzarella;
• tomato sauce;
• 1/2 spoon of salt;
• 1 tablespoon extra virgin olive oil;
• oregano;
The first thing you have to do is to pour the yeast in half a cup of water, add a little flour and a teaspoon of honey, and mix with your hands in order to form a ball. Leave it to rise for half an hour. After that, add the remaining ingredients, and mix like before for at least 10 minutes. Cover and let it rise in a warm place for a couple of hours.
Next, take the ball of dough and stretch it out on the working space. Mark a circle in the middle; careful not to cut the dough all the way through. Use this as guide for placing the tomato sauce, mozzarella and other ingredients, just like in the images. Take the knife again and gently cut slices (similar to cutting a regular pizza) but leave the outer rim of the circle intact. Then, simply take the slice and place it over the bigger circle of dough, the one with the ingredients on it. Repeat the process for all the slices and you will obtain the crown shape of the pizza. Allow it an hour to settle and afterwards bake it in a preheated oven at 200 degrees for 15-20 minutes, until golden brown. Enjoy your Crown Pizza!
Source: Couronne exotique