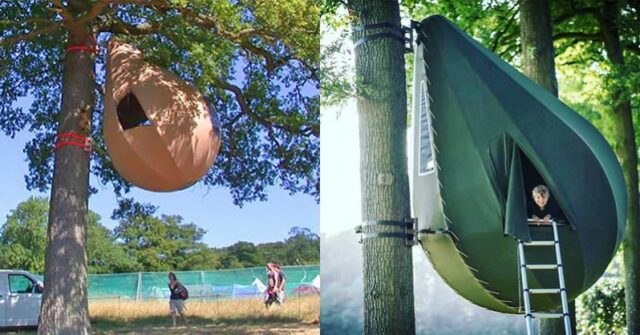 Spending time in nature is the perfect way to recharge your batteries and forgot about modern-day issues. Being close to nature will reduce stress levels and will help you improve not only your general well-being but your health too.
These awesome raindrop-shaped tents are the perfect spot if you want to spend some time outdoors and feel adventurous. They will let you sleep in trees and feel the winds, which will rock you to sleep slowly.
They are located in the Netherlands, so you should start planning a vacation as soon as possible, as it will be a great experience.
They were designed in 1998 by Dutch architect, Dre Wapenaar and created them for the members of Road Alert Group in England a group of tree-sitting activists, who raise awareness for causes like deforestation. But the group never got to use the tents, as the owner of a campsite saw Wapenaar's original sketches and convinced him to sell his idea.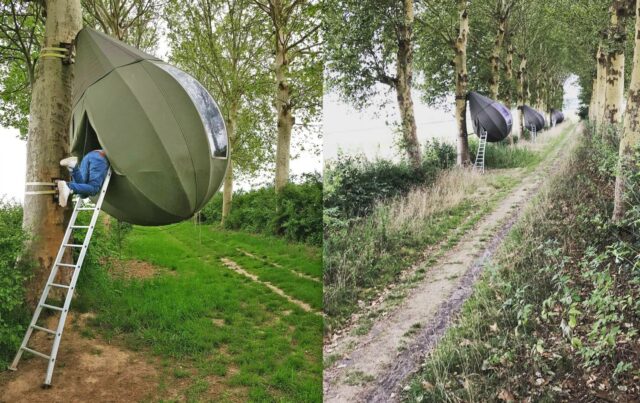 The tents are not for purchase, but you can use them at Hertshoorn Campgrounds in the Netherlands and their booking costs $65 per night. But it is better like that, as the camping can be found in the heart of the Dutch woods and the tents are surrounded by beautiful trees which are all sprayed so bugs won't bother you inside the tent.
The interior of the tent is split into two levels, the ground floor can accommodate 2 adults and 2 children, and the upper part can be used as a balcony. The height of the tent is 13 feet and it has a 9 feet diameter.
Since it was made of highly resistant polyester, it can keep guests safe even in rainy or windy weather. To get inside them, you'll have to climb a ladder which adds a nice twist to these cool tents.
So, if you are looking to spend some time in nature, in unique accommodation, you should start planning your trip to the Netherlands right away!
"Even though I designed the tents for use by the ROAD ALERT GROUP the project never happened. Before I finished it, a representative from a campsite saw the drawings of the TREETENTS and convinced me to sell them this project. It was a huge success; and is still in use today."