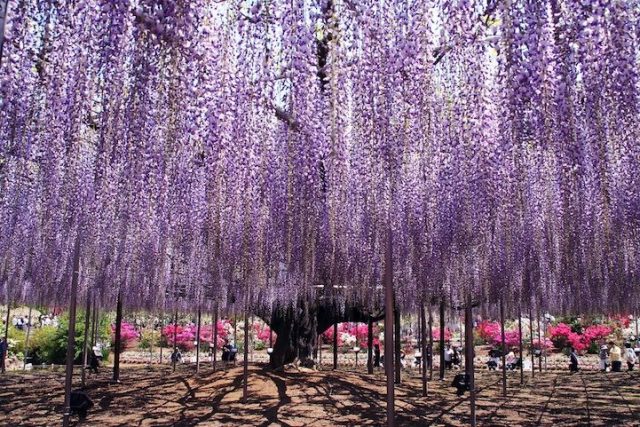 Wisteria trees are so beautiful, their purple color makes them very special and they attract every glance. The Ashikaga Flower Park in Tochigi, Japan is the home of a stunning 150-years old wisteria tree which is the main attraction of the park when in full bloom.
The tree is so big that its flowers almost touch the ground and create a purple carpet when they wither. Since the tree is so old, it needs a bit of human intervention to survive and even strive, so gridded beams have been installed to support its branches.
Thanks to its surreal looks, this area of the park has been attracting a lot of visitors and photographers, who are looking to capture the perfect shot for their social media accounts.
The best time to plan a visit to the wisteria tree is mid-April when you can catch it in full bloom until the mid of May. You can also check the Ashikaga Flower Park's website for more information and details about the blooming flowers and the best periods for visiting the park.